Manage Assignments Effectively
Automate assignment distribution, collection, and evaluation based on industry standards. Check for plagiarism and provide your students with fair classification in real-time!
i

Efficiency for instructors

Automate assignment distribution and collective evaluation at and to any point in history. See each solution progress in time and check on plagiarism to provide fair and efficient grading!
i

Real experience for students

Get real-time evaluation both locally and real-time feedback upon submission at any point in time. Use any editor and one-click syncing instead of email attachments and gain real developer experience!
i

Independence for institutions

Support students with disabilities and prevent lawsuits using high accessibility ADA compliant system. Prevent vendor lock-in by using source-available software installable on your servers!
iExpress your needs in our full-feature survey!
Jeff S.

CS Faculty

Gaining a real developer experience alone is a reason to introduce the system into education. It brings a competitive advantage for students and thus for the university.

i
George P.

Author

Meeting all legal requirements, especially ADA, is a big step closer to students with disabilities.

i
Abdullah A.

CS Student/TA

It's so much easier like this. Students don't have to worry about submitting or anything around. They know if they're passing! It's also more real world.

i
Lukas B.

CS instructor

This solves our daily problems between students and instructors. Lets us focus on education instead of dealing with technicalities. Makes our lives easier.

i
Marta P.

Math student/TA

Very convenient to know you can just close the browser and let go after seeing passing tests – not having to cope with downloading, emailing, or uploading to various places.

i
Tomas K.

Senior developer

Great system! You work with standard tools and concepts commonly used in industry and not with some proprietary BS they made us work with at school.

i
Neel T.

CS student

Bringing unified and universal assignment management across courses is a big relief. Lack of coherence and integration leads to inefficiency.

i
Hector J.M.

CS Faculty

Tracing individual solutions' progress and checking for plagiarism helps to reveal problems and support students before it's too late.

i
Melanie M.

Biology student

Why don't we have it already? Some of the current problems could ruin my GPA.

i
Miya H.

Software manager

If you miss anything, you can simply revert or start over. Wish we had that during my studies.

i
The system introduces four basic operations: distribute, evaluate, collect and measure. For full documentation and configuration options, see the GitHub repository.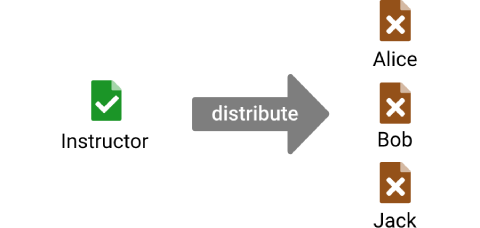 Distribute & Update

One-click to distribute an assignment among solvers. Same click whenever the assignment gets updated.

Solve & Evaluate

Evaluate the compilation, coding style, and automatic tests anytime on-demand, locally, or upon submission.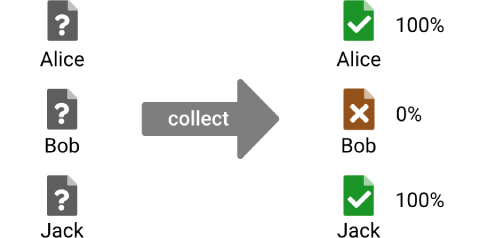 Collect & Grade

Download and evaluate all solutions collectively in one click. Export grading into your system.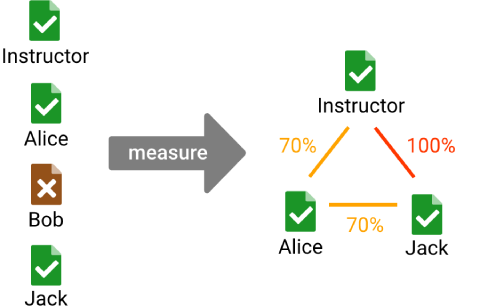 Measure & Visualize

Measure similarities between all solutions including the original solution, visualize into graphs.
Fees help us to keep the software sustainable. We take care of proper documentation, changelog, and semantic versioning. Keeping the software reliable and compatible over time.
i

As a product

FREE unlimited personal use (download).
According to the licensing.
$600 monthly for commercial use.
i

As a service

$4 monthly per account.
Includes unlimited CI runtime minutes.
Includes free training for instructors.
i

Enterprise SLA

Integration, maintenance, and support.
Tailored software evolvement.
Assignment transformation and redesign.
Comparison with GitHub Classroom
In comparison with GitHub Classroom, both systems provide real developer experience. There are differences in pricing policy and lots of conceptual benefits as follows.
i

Source-available software that can be developed by any third party.

i

Source codes are not available.

i

Student repositories with assignments are created automatically.

i

Students must download (accept) their assignments manually.

i

Assignment updates are distributed automatically.

i

Students must notice and download assignment updates manually.

i

Integrated plagiarism check with interactive results and visualization diagrams.

i

Software similarity check is not supported.

i

Full control over solutions as repositories are owned by instructors.

i

No control over solutions as repositories are owned by students.

i

Can be deployed on third-party servers or used as a service.

i

Only available as a proprietary service.

i

Student data (solutions) can be stored on third-party servers.

i

Data are stored exclusively on GitHub servers.

i

Unlimited early/late submission with collective evaluation to a given point in history.

i

Evaluations are available only upon students' requests.

i

Provide instruction in a form of technical issues.

i

Instructions via issues are not supported.
i

Unlimited CI minutes.

i

Limited CI minutes both for both student accounts and instructors.

i

Inherent relation between an assignment and its reference (working) project.

i

No relation between an assignment and its reference (working) project.

i

Multiple alternative (slightly modified) assignments per semester or class.

i

No support for alternative assignments per semester or class.

i

To create an assignment, simply add an import URL into an existing project.

i

New assignments must be added and configured in a GitHub UI and set as a template project.

i

Existing tests are applied and evaluated automatically.

i

Tests need to be specified in GitHub UI environment including the setup and run commands (technical).

i

Multiple environments such as GitHub or GitLab including your GitLab instance.

i

Runs exclusively in the GitHub environment.

i

Additional (hidden) tests to prevent trivial solutions.

i

No additional (hidden) tests available.

i

Makes sure only designated files have been modified.

i

No integrated file protection.